Playing Mother 3 - Missed the Funeral
Definitely worth replaying this game. I really had forgotten the order events, however…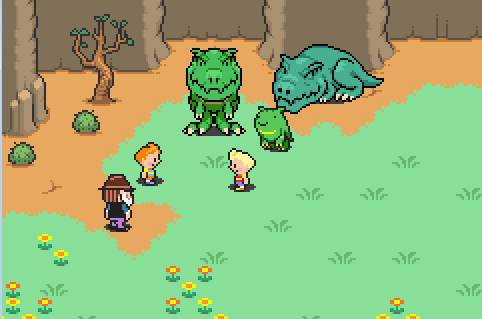 Bwuuugh, happier times. ;~; Just seeing Claus kills my heart just a little.
Nice little bit we have here with the kids. Dragos are cute, the vacationing family's cute, the sprites are cute, and mother Hinawa is planning to take her children home soon. It's just adorableness all around. And suddenly…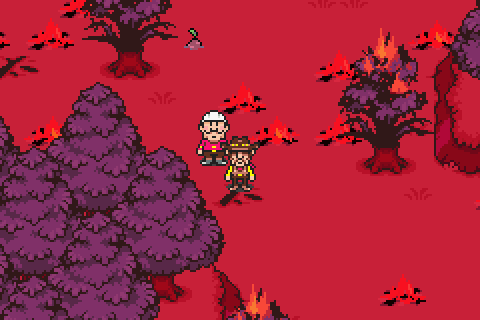 We're playing the father of the quaint little family, Flint. And with us, we have one of the useless townspeople. I remembered the people of Tazmily became a village of douchebags after Porky hit the neighborhood, but now that I'm playing again, it's clear to see there was already something wrong with that lot. They're all a bunch of cowards and the majority of the people are as smart as a bag of rocks. There are a couple people I can approve of, such as Lighter and Isaac, but for the most part, I find it hard to like them. For fuck's sake, they send the ONE MAN with a spine to somehow "fix" an entire raging forest fire. That's really gonna happen guys, come on you dumb nuggets.
So, after single-handedly rescuing Lighter's son from their burning home, the rain is kind enough to put the fire out, and Lighter and Fuel are taken to the local inn. There, we discover Hinawa and the kids have not returned, and many of the townspeople organize a search party. Before Flint heads out, he receives a letter…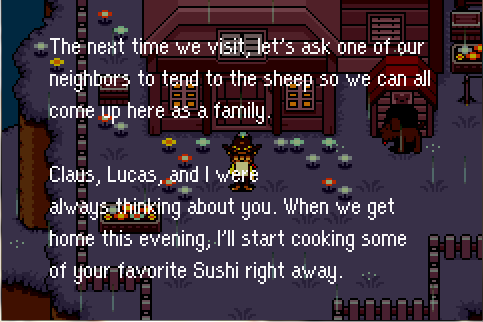 That ain't happening any time soon. Hope you weren't having a huge Sushi craving, Flint.
So, the kids are found, but where's his little wife? Dead, of course! It's Disney's favorite tradition - off the mother!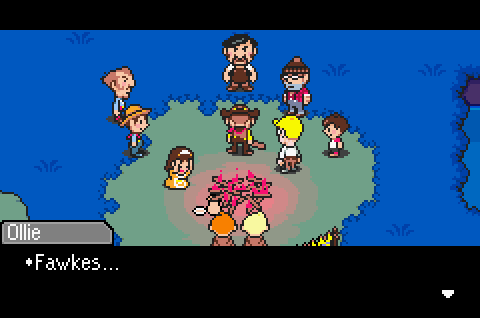 By the by, I thought Flint looked more like a Fawkes, so that's the name he got. :| For the sake of fans who may get confused, I'll keep calling him Flint (plus, I only discovered the Flint/Hinawa pun AFTER I named him).
Flint's devastation and instability is what makes this scene so sad, in my opinion. I don't feel the player is given much time or opportunity to really get attached to Hinawa, so it's the woe expressed by these tiny sprites that makes her death such a distressing event. If Flint hadn't reacted the way he had (in which he pounds the ground, smashes the burning firewood, and lashes out at anyone who comes near him because he is so overwhelmed by his grief) I doubt the emotional impact would have been nearly as great.
And while I'm at it, the expressiveness of these sprites is pretty astounding. Honestly, every pixel's movement counts. It's impressive that something 20 pixels high could convey more emotion than characters on the Nintendo 64 (and sometimes the Gamecube) at the time.
Anyhow, due to Flint's outburst, he's clonked out and taken to prison. You know what that means?
Flint missed his own wife's funeral! Can you believe this bullshit? These townspeople are a load of assholes! They couldn't wake him up, or even wait for him to regain consciousness. This man, who must've loved his beloved wife more than anything in the world (aside from his kids, probably), couldn't even give her one last goodbye. I can understand they'd be afraid of another outburst, but they didn't even offer to allow him to attend the funeral if he agreed to be rational. How fucked up is that? And, since it was Claus that had to free his father from the slammer, who knows when Flint would have had the chance to visit her grave!
To top it all off for poor Flint and Lucas, Claus has taken to the forest to slay the beast who killed his mother all by his lonesome.
Man, this family just can't catch a break.